01.12.20
Parmigiano Reggiano "Italian Simmental breed only"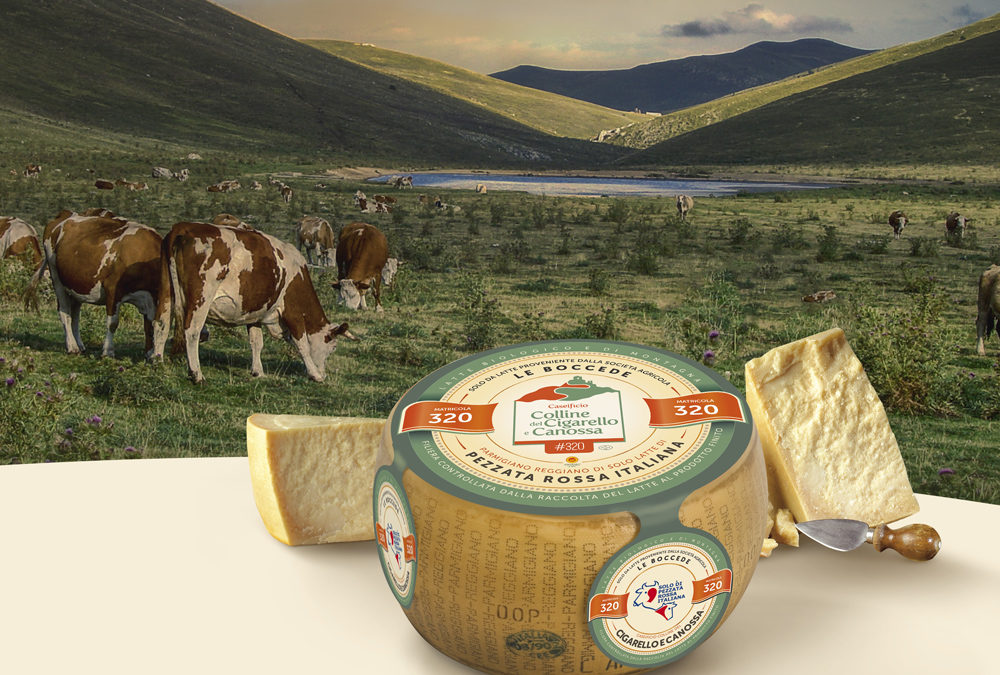 A NEW DALTERFOOD GROUP EXCLUSIVE
DalterFood Group adds a new speciality to its product portfolio: Parmigiano Reggiano made exclusively from the milk of the "Italian Simmental Breed". A high quality, one-of-a-kind cheese on the Italian and international market that will be produced in the Appennino Reggiano by the Colline del Cigarello e Canossa dairy owned by the dairy group.
The milk used to make this product is exclusively sourced from "Le Boccede", a farm nestled in an uncontaminated landscape in the Reggio hills that raises free range livestock entered in the breed registry, first recognised by the ministry as a bovine breed of national interest back in the 50s. Organic certified, the Parmigiano Reggiano obtained from this milk also bears the "Italian Simmental Breed Only" brand issued by the National Association of Italian Simmental Cattle Farmers.
"It is with great pride that we present this new product, which represents a further link in the chain of our policy for the segmentation of Parmigiano Reggiano and the promotion of all its expressions, linking its sheer excellence to its land of origin – Elisa Flocco, Head of Marketing at DalterFood Group, affirms – With Parmigiano Reggiano from Italian Simmental Breed Only we are continuing along the pathway towards the promotion of organic and high quality cheese produced at our Colline del Cigarello e Canossa dairy, where important investments have been made both in terms of production capacity and environmental sustainability".
The Italian Red Pied breed originated from Friuli and has since spread throughout Italy. It owes its success due to its ability to adapt even in more difficult environments, thanks to its high fertility, resilience to disease and duality of purpose, meaning the breed is suitable for both milk and meat production, making it particularly sustainable for farmers. As an extremely rustic breed, well-suited for organic farming, today Italian Simmental Breed is concentrated above all in mountain areas, on medium-small family-run farms.
These characteristics are also palpable in its milk: its good fat and quality protein content make it pleasant on the palate and highly suitable for the production of cheeses and other dairy products. Already appreciated for the production of PDO Montasio, now for the first time ever, milk of the Italian Simmental Breed turned into Parmigiano Reggiano will be released onto the market, guaranteed by the "Italian Pezzata Rossa Only" logo.
"With this collective brand, registered at a European level, we wanted to identify and promote the milk and cheese obtained from this prestigious breed and to protect the consumer as regards the traceability and genuineness of production – Daniele Vicario, Director of ANAPRI explains – We are delighted that thanks to production at the Cigarello facility, the Italian Simmental Breed can also be associated with a Made in Italy icon the likes of Parmigiano Reggiano, renowned and well-loved throughout the world".
The supply chain of the latest DalterFood Group product is transparent, local and certified. Organic milk is exclusively sourced from Le Boccede, a farm that has extensively invested in the selection of livestock to improve the genetic heritage of its resident flock, to obtain a milk of increasingly superior quality. Sight has never been lost of animal well-being along this pathway, as certified by assessments carried out in accordance with the CReNBA protocol, recognised by the Ministry. Indeed the cows have access to a large wood where they are free to graze; they are only fed local hay and flour. Their milk is delivered to the Colline del Cigarello e Canossa dairy , where it is turned into Parmigiano Reggiano PDO.
Latest news