05.04.23
CARBONARA DAY: DALTERFOOD GROUP'S PECORINO ROMANO THE PERFECT INGREDIENT FOR FLAVOUR-FILLED AUTHENTIC DISHES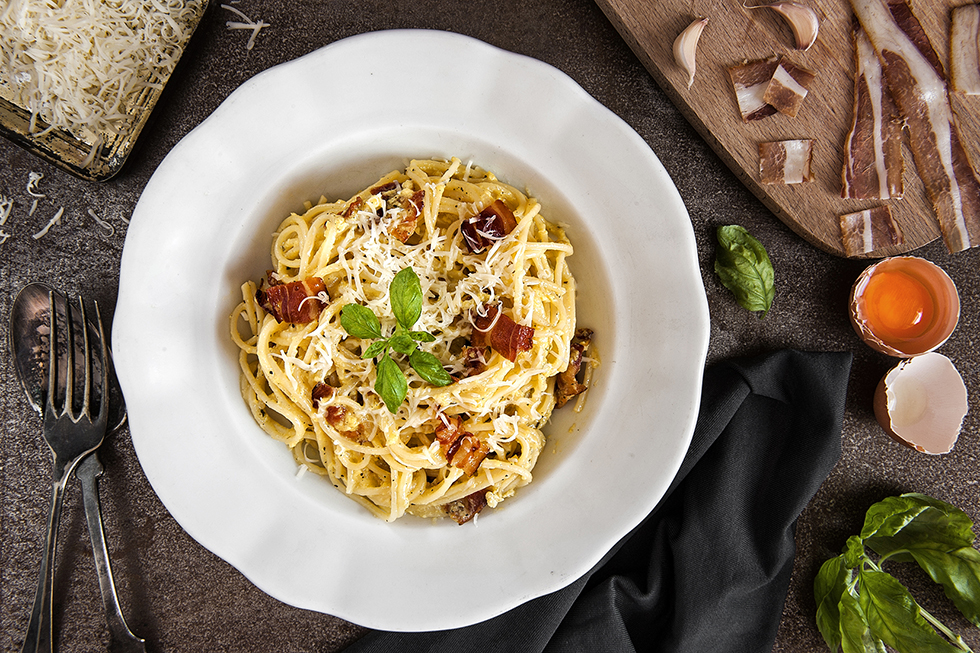 There are recipes that go beyond cuisine and tell stories, pass down traditions and take Italy all around the world. Pasta alla Carbonara is undoubtedly one of them: it is no coincidence that, pizza aside, it is one of the most famous Italian dishes outside of Italy. And according to the Accademia Italiana della Cucina, it is also the most wrongly made: many amateur cooks and expert chefs abroad have no problem using bacon instead of guanciale or béchamel sauce rather than egg. Not to mention cream, which is added without any hesitation to make the sauce creamier. A complete sacrilege for purists. In order to restore the right level of dignity to this often manhandled dish and to celebrate it as it deserves, in 2017, the IPO (International Pasta Organisation) and the Unione Italiana Food decided to establish Carbonara Day on 6th April every year.
Myths and legends still swirl around the origins of this dish today and no one has ever managed to demonstrate with certainty who created it and when. The most likely theory is that Carbonara was created during the Second World War from combining the ingredients of American soldiers' "K-Ration" (powdered egg yolk, cream, cheese and bacon) with Italian pasta.
The recipe has evolved over the years to become a real "homemade speciality" in pubs, families and restaurants around Rome and Abruzzo, as well as a traditional Italian must-have recognised and enjoyed all around the world.
It is not Carbonara without Pecorino
Arguments over how to make the original recipe for pasta alla Carbonara are still going on and it has always been a hot topic at the dinner table. On the one hand there are the purists, for whom there is only one way to make it and just one recipe, which includes five essential ingredients: pasta, guanciale, pecorino, egg and pepper. On the other hand there are the innovators, who are open to reinterpreting it and giving it a new twist. However, everyone agrees on one thing: it is not Carbonara without Pecorino Romano.
DalterFood Group offers the finest grated Pecorino Romano with an intense, strongly aromatic, sharp and savoury flavour. A superior ingredient, ideal for a variety of different contexts and uses: perfect for preparing an authentic Carbonara, or for bringing flavour to sauces and ready-made Carbonara dishes.
It is packaged in a protective atmosphere in handy bags of 1 to 5kg, ideal formats for catering and the food industry, where convenience and time efficiency are paramount when handling ingredients. We offer this PDO cheese in a wide variety of cuts and packs, such as flakes in single-serving sachets, grated in Doypack sachets and many more, even including tailor-made options to best meet the needs of our clients.
But Pecorino does not just mean Carbonara. The characteristics of our Pecorino Romano make it ideal for other recipes, both ready-made and fresh, such as soups, fillings, stuffings and toppings. We also offer Organic and Vegetarian versions, meeting the needs of consumers who care about where their products come from or those who follow a vegetarian diet. These products join the extensive catalogue of cheeses, cuts and packs which make DalterFood Group the perfect partner for food service, industry and retail.
Latest news